Who does not know the wonderful game of chess.  It is believed that the game originated in India. Over the years, the rules have changed, making chess what it is today. A fun, peaceful war game. Unless, you've decided to play Battle vs Chess.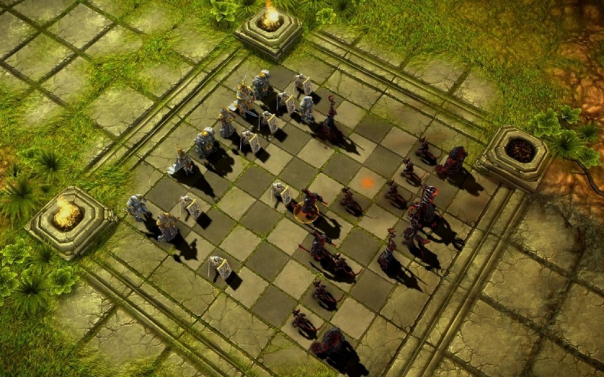 A chess game where you can destroy your opponents with brute force.
Battle vs Chess reminds the player of Battle Chess, an old game that could be played on the Commodore Amiga, 3DO, MS-DOS, Apple IIgs, Commodore 64, Amiga CDTV, CD32, Atari ST and Apple Macintosh. Later the game came out in various versions. In each of the versions the chess pieces came alive and destroyed the opponents pieces.
However, Battle vs Chess is not just a remake of these games. The game offers a variety of game modes and challenging puzzles, along with various minigames and a campaign mode. Some of the puzzles can be solved in one turn, while others require complex thinking and can even challenge the most experienced players. Battle vs Chess is about 1.2 Gigabyte, which makes it more then just a chessgame. It is a collection full of challenges that will probably amuse chess-lovers for some time.
The game offers various chess modes apart from the original game. One can choose to play a mode where the pieces are placed tactical. Also there are madness modes,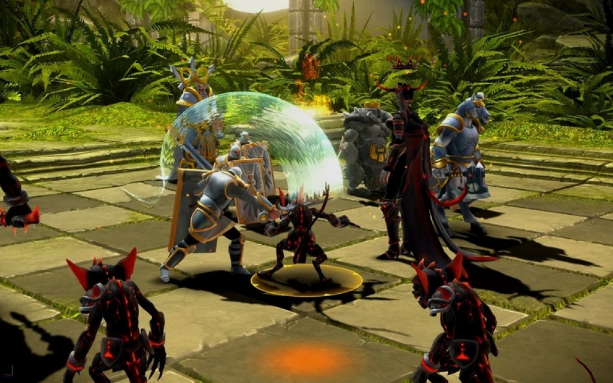 where the complete board looks like it has been hit by a giant tornado. On the easier difficulties it is not too hard to beat the opponent. The more challenging difficulties require more thinking. One  silly mistake can determine whether you win or lose the game. While the AI opponent makes some funny and unexplainable moves sometimes, which can be quite annoying, because it looks like the AI is lost for moves, it is versatile when you don´t have your important pieces covered, resulting in a loss in no time. However, the developers did include an undo button, so if you´re the kind of person who doesn´t want to play a chess game fair and square, there is always the possibility to think and reconsider your moves. In the campaign mode this option is disabled, so if you make a mistake here you would have to restart the game and try again.
The game comes with two different factions called order and chaos, representing the light and the dark side. While the animations are fun to watch, they can quickly become repetitive,  as  all chess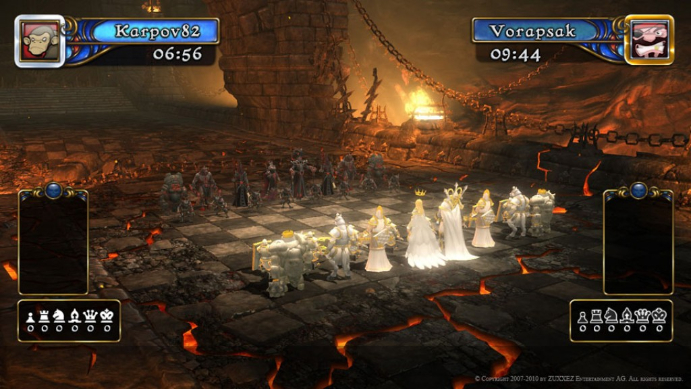 pieces only have a few animations when they attack. I wish the developers would have added more factions, but perhaps that will come in some downloadable content. While the animations are funny, it does slow the pace of the game a little. Luckily you can always chose to look at the pieces in 2D and disable animations if you´re in a hurry or don´t feel like watching animations.
The campaign comes with 15 missions, increasing in difficulty as you progress. While each mission has a small background story, it is not a complete storyline.  Basically in each story you play as the Order, defending against the dark forces, or Chaos, trying to achieve world domination by wiping out the Order. Whenever you complete a mission you will get a bronze, silver or gold reward, depending on the amount of moves you needed to finish the mission. The missions don´t start with a full chess board everytime and sometimes there is some kind of restriction, for example being unable to use towers during a mission.
When you select a piece the game shows you what moves you can make with it.  Battle vs Chess comes with a handy color coded system, so you can see in a glimpse if you´re king is being attacked. Needless to say the campaign mode is the most fun to play because it has some kind of story and requires different thinking in each situation, although the campaign mode is a little short with 15 missions.
Battle vs chess has a unique mode called battlegrounds where the player enters some sort of minigame whenever he attacks an opponents chess piece. In  this game the player matches keystrokes to damage the opponent, but if you miss, the opponent can damage you. The piece is destroyed when one of the health bars is empty.
The game has some other minigames you can play, one of them called treasure hunt. In this mode you have control of a purple crystal. The objective is simple: try to catch as many chess pieces as you can in as few moves as possible. This minigame requires logical thinking and can be fun for an hour or two. The game has a wonderful options menu, allowing the player to select several languages.
Multiplayer is very disappointing. The game offers LAN support and hot seat support, but does not have online rooms or servers, so you cannot battle directly against strangers. In my opinion the game would have gotten a larger audience if the multiplayer mode actually included online play. Nevertheless, if you're a chess fanatic and you're looking to expand your collection I would certainly recommend it. If you're just a casual gamer the game is fun for an hour or two, but quickly gets boring due to lack of an online mode and repetitive animations. That being said, the game is enjoyable and challenges your intelligence at the same time.
Disclaimer:All scores given within our reviews are based on the artist's personal opinion; this should in no way impede your decision to purchase the game.